Marike's Cave Diving Stories
last update: 10-04-04
---
©Marike Jasper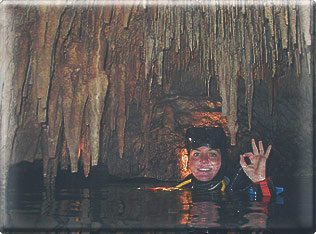 In Memoriam
Marike was a cave diver living near Tulum, Quintana Roo, Mexico. She had been diving since she was a little girl, and had become totally addicted to cave diving. She was 3 star CMAS certified, PADI Open Water Instructor, and Full Cave certified by NACD and NSS-CDS, as well as being certified for Extended Range and Advanced Nitrox diving.
Marike tried to be a member of expedition teams as often as possible. Expeditions there are organized several times a year, and one of her trips was the Yucatan 2000 expedition organized by Andreas Matthes. Their team explored the area to study the connection between directions of the cave systems and the comet that wiped out the dinosaurs, Xixulub. Marike wrote stories about all of her adventures on expedition and about special dives in the caves. She was her desire to publish all of these adventures in a book.
Sadly, dear visitor, Marike chose death instead, on April 3rd 2004. To hear this was a big shock to the many people who loved her. Her website will remain available for an indefinite time, both to remember her and to be something like her unpublished book. May the Yucatan's caves be beautiful forever...
In remembrance of Marike Jasper

love,



---