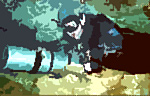 Comments from Marike's guests:
Mike Claasen
October 2002
©Marike Jasper & Mike Claasen

---
Somewhere in January 2002 I got the idea to quit my job again and to make another journey. Don't know why I choose specificly Mexico, maybe because of the language and culture, but I didn't know at that stage that it would bring some great experiences in diving. My father, being a member of a Dutch dive magazine called "Duiken" pointed out to me an article "Cavegirl in Mexico" which I read with interest. I never dove in caves, only in open water in Australia (Great Barrier Reef,Cairns), Egypt (Sharm El Sheik) and Aruba. I was an Advanced diver before I went to Mexico and I had little plans to do more with diving. This article caught my interest though, and there was an email address at the bottom of the article.
The story was about a Dutch woman who moved to Mexico years ago and became a cave diver there. A pretty good opportunity to make a contact there. I wrote her an email with the simple question "Where is it good diving in Mexico?". An even simplier answer arrived only one hour later. (That is damn quick!) It said "Everywhere here". This is how the contact started and all the time we had contact, for almost 3/4 of a year, she kept on saying "I will give you the dive of your life".... I don't trust people saying stuff like that, for me it is first see/experience and then I believe (or not).
On september 30st 2002 the time came for me to go to Mexico. After spending some time in and around Mexico DF I got to Puerto Escondido [...] Our goal was to go diving at Cozumel but that never happened. Sure, it must be great to dive there (I will come back here anyway so I get a second chance) but something else popped up. Still having contact with Marike Jasper and her still saying "I give you the dive of your life...." made me think I had to do it. I asked Tom and Nicole to join me and to my surprise and relief they said "Yes!". They are advanced divers but also only had open water experience. Via internet (which caused a lot of problems communicating in Mexico, computers breaking down and disconnecting all the time) we arranged a date and within two days we would be diving in a cenote (not cave). In those two days I went to several diving shops in Tulum and Playa del Carmen to check out some photos made in caves and cenotes. Seeing those incredible photos I couldn't believe I was about to do this.
We met Marike at her house in Chemuyil, which is a tiny place between Playa del Carmen and Tulum. We introduced ourselves and then she told us what she does with diving. She explores caves and cenotes, does research and makes maps of those caves. We got our gear together and went to our first cenote called Ponderosa/Eden. There she gave us our briefing and told us that the hand signal "going up" does not work everywhere because most of the time we would be in a overhead environment. Marike is straight forward and I guess you have to be like that when you're diving in these conditions. You cannot permit a mistake in a cenote. She told us more about our dive. The Mayas believe that cenotes and caves are gates to the Underworld. They still offer in those cenotes and caves and new potshells and old ones and other things can be found here. She also told us that she would point out to us some fossilised shells in those limestone cenotes. Those cenotes were formed when the roof of a cave collapsed many years ago. With their crystal clear water and limestone formations it had to be a great place to dive. Tom asked something about a halocline and Marike said that we will see this where fresh water meets salt water. She told us how to enter the water and because there is a lot of silt not to move around. When the silt gets stirred up it won't be such a good dive. Then we entered the cenote where Marike connected the line she brought, with the main safety line in the cenote. The dive into the Underworld of the Mayas was about to begin....
In the cenote we wouldn't see many fish,just five different species and all very small. The water was crystal clear and when we went under another world opened itself for us. Incredible it was seeing the light penetrating the water, how you could see the leaves on the trees from meters under the surface when we came to open parts. Beautiful views we had in this fantasy world. While diving you find yourself in a different world but this was a complete new experience.... This was really different from what I have seen in the dives I have done so far. You swim through a cave and look around. No, not swimming... it is more like flying through air in a big hall with on each sides stalactites and stalacmites, under you, above you.... What you see is just amazing, different coloured sediment layers, fossilised conch shells, a tree looking weird being under water. The light behaves different and the "normal" world looks so far away. The green and blue colours fill the entire space when the sun beams it's rays through holes in the roof. Swimming through a passway with a helocline is like swimming through jelly. Not physically but the eye sees a not sharp lined environment, like you are looking through a jar with jam. Very weird but special.
With flashlights we made our way further when there is not enough light, always seeing a dim light in front of you or behind you (for safety, because in an emergency you need an exit). Being in this world for 41 minutes (Ponderosa/Eden) and for 42 minutes in the even prettier cenote called Tajmahal it made me sad to come back to reality.
Still having the images of that pretty world in my head, the light, the atmosphere, the tranquility, the serenity, made me drop my jaw another inch.... I had to admit to Marike that she gave me the dive of my life and she laughed and said "I told you I would". After washing our gear and placing it in the car we drove to Marikes house where we parked the car and went to a restaurant where we took a cevichi (mixed seafood plate). There we talked a lot more about diving before we said goodbye to Marike. In March I will return here and introduce someone else to her because I am sure she can give this person the dive of his life too....
---
Note from Marike:
The cenote dives in Ponderosa/Eden and Tajmahal with Mike, Nicole and Tom went great, it is always nice to guide a team of good enthousiastic divers. The surface water from Tajmahal has been darker with a layer of algae and on this dive, it was for the first time since many months that the water was crystal clear again, the sunrays were spectacular. We missed the rays in the Points of Light because of the time of the year, but Sugarbowl was as beautiful as ever.
Would you like to do the dive of your life with me too? Check the the link Bookings and find out what Marike can do for you.

Marike Jasper
cave diver in Mexico