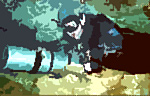 Story index
©Marike Jasper

---



The Yucatan peninsula is the most beautiful cave diving spot on the globe. With a average depth of twelve meters, 30 feet, it is possible to make long dives without incurring decompression obligation. The underground systems are accessible through cenotes; 'Tzo Not' is Maya for "sweet water well". The water temperature is 25 degrees Celsius, 75 Fahrenheit, the whole year round, there is hardly any current and the water is crystal clear, visibility endless. Most of the caves are spectacularly decorated with stalactites and stalactites, and there is a great variety of geology. The stories and pictures on this website will tell why Marike Jasper fell in love with cave diving on Mexico's eastern peninsula.

Stories in English:

Exploration of Cenote Crustacea
This story will be part of a book that I am writing at the moment about my cavediving adventures, while living here in Quintana Roo Mexico.
Exploring The Pit
Last time when Pierre was support diver for Steve Bogaerts he was just cruising around in the shallow and found a lead ...... Since everybody has been looking for deep cave, we thought it would be good to go look for some shallow cave!
Sayab Chen, Tiger Cave, Tulum
The owner of this cenote asked for me to dive his cenote many times. It looked great, but it was already explored by another cavediver. That was a bummer, but it was still worth a dive anyways. A gorgeous cave, dark silt, beautiful and plenty white formations, many of them shine through if you hold your light close.
Box Chen, Sac Actun
Cognac, honey and bacon in the white cave.


Stories from guests:

Comments from Marike's guests: Mike Claasen
This story tells you how Mike, while travelling Mexico as a tourist, experienced 'the dive of his life' with Marike.

Stories in Dutch:

Marike's exploration
De spanning vooraf en...
Jungleavonturen van Marike
Het verhaal achteraf.
De caveduik van vandaag met Marike in de zee !!!!
Van cenote naar cenote en dan uitgespuugd worden in zee. Niet voor iedereen weggelegd.
Science dive in Balam Canche
We hebben thermometers die veranderingen in het water loggen geinstalleerd, en een zoutwaterprofiel gelogd.
Crustacea
Dit gaat over 'mijn' cenote vlakbij mijn huis, een enorm cave systeem waar nu ongeveer 8000 feet lijn inligt. Heeft sinds kort een naam: Crustacea, vanwege de vele aanwezige crustaceans (cave dieren, o.a. remipedia).
Plan je duik: hydrology dive
Morgen gaan we weer ingewikkeld doen....Ik moet een watersample nemen. Ik heb het plan aldus uitgedacht.




Pictures and illustrations:

Science dive
Dive into the jungle. Preparation and data collection in the field.