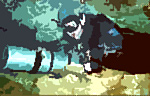 Marike's diving curriculum
©Marike Jasper

---
Curriculum of Marike Jasper
Born 14 June 1963, Utrecht, The Netherlands
Marike grew up with diving, since her dad was involved in one of Hollands oldest sport divingclubs, Nautilus. So her first real openwater dives were made off the beach in Spain, with dad keeping an eye on her, around 6 or 7 years old. Having her own kiddy double 3 liters made it extra 'cool'! At the minimum age of then 14, she obtained her first diving certificate, the first star CMAS. Later followed by 2 and 3 stars CMAS, open water certificates.
Many dives, mainly in Holland and Spain during vacations followed, first cave, a coral cave was entered during a vacation in Spain. The damage to the ocean later disappointed her so much and she stopped diving for a while. She started Underwater orientation in which she became Dutch champion once and long distance finswimming with a mono fin. She swam in Luxemburg, Belgium, Switserland and she crossed the street of Messina between Italy and Sicily.
Growing up and having a profession, the hobby changed into horses and bikes. After a vacation in Mexico a decision to change life was made, and together with (now ex-) boyfriend she bought a diveshop in Cancun, Quintana Roo, Mexico. While diving the area, a friend took her on her first caverndive in the cenotes Anjelita and Sac Actun, the cavevirus struck hard and immediately. Marike has turned a addicted cave diver since that moment.
After the cavecourse with instructor Kate Lewis, Marike did nothing else than cavediving. She became an explorer of unknown territory underwater, carthografer and sketcher of caves, she assisted students and professors in caves with their research. She was going on cave/jungle expeditions as much as she could. A documentary about exploring cenotes for the Mexican watercompany Aguakan already appeared on Discovery Channel in the US, Marike playing a role as campmanager and data collector.
In the meantime, besides obtaining her PADI Open Water Instructor license, she did extra courses with various (cave)instructors.
After she finished drawing cavernmaps from the caverns Chikin Ha and Tajmahal she had been gathering the data from the other caverns, she planned to make handdrawn maps from Sac Actun/Grand cenote. She was also modelling for pictures for the new book of Steve Gerrard, Safe Cavern Diving, and doing the illustrations for the same book.

Marike lived until April 3rd, 2004.