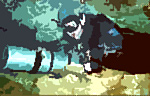 Exploring The Pit
Sistema Dos Ojos, Tulum, Quintana Roo
©Marike Jasper

---
Yesterday 30 july 2001, Pierre Tungeon and yours truly, went for an exploration dive in The Pit, Sistema Dos Ojos. Last time when Pierre was support diver for Steve Bogaerts he was just cruising around in the shallow and found a lead ...... Since everybody has been looking for deep cave, we thought it would be good to go look for some shallow cave ! The tanks where brought in last week, we went walking (a German reporter Mario and me) on the rough jungle trail for 3 kilometers, while Pierre went on the Quad with all the gear and the radio. At the site we set up our gear and lowered all the tanks and camera kindly lend to me by Dr Harry Hicks in the water.
While hooking on the tanks and checking eachother and our gear, I suddenly heard a loud noise of bubbles next to my ear, the inflatorhose of my wings had a little pinhole in it. Apart of the risk of total failure later on in the cave, it was also very irritating. We had Mario throwing in some duct tape and Pierre made a succesful emergency repair while we where hanging on to eachother at the surface! Then I left the camera at the part of the ladder that is hanging in the water and we went for Pierre's lead.
Well, we found it! A going cave with an average depth of 16 feet, we laid 575 feet of line on a dive of 78 minutes, that means the cave was small, at some places very small ! Maybe we have found the going upstream cave of The Pit. There is a restriction where I was stuck with my back against the ceiling and my face in the red clay silt on the floor, I couldn't look up and couldn't move.....plus the line was gone at some point...... Getting myself togheter I found the line back, it was hooked up at the clip of my lighthead (visibility was reduced to nothing, everything is orange in red clay silt, and I was not able to read my gauges or whatsoever) Then I started to move very slowly and wiggle my way through, wondering if I would be able to go back after this.....Pierre was in front of me and he didn't come back, so I figured the cave was still going...... Finally I could lift my head and see a small stripe of clear water against the ceiling and in a blink of a second I saw some light....Pierre was still there.....It took a while to go through but we ended up in clear water again, and I went in front of Pierre.
Again we hit a restriction, I went through with one tank in front of me, the cave was still going, then I was in front of a restriction where I had to take both my tanks of to go through, I pushed one tank through and looked at my gauges.....I had still 400 pounds before hitting my thirds.....That made me decide to turn the dive, because it would take too much time and I couldn't see clearly how far I could go after this restriction. Pierre was now in front of me and I started surveying the line. Somewhere Pierre found a lead along the line and marked it with a clothespin while I was doing my writing, now Pierre was behind me again. On the way out I was stuck again, right at the entrance, Pierre pushed my legs and with some force I popped out of the hole!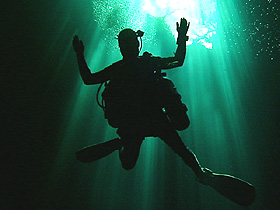 The cave is beautifully decorated with all colors of speleothems, phreatic tubes, beautiful cavepearls and beddingplanes. We followed a big crack in the ceiling most of the time, swimming through the upper tube while a second tube and crack where below us. The silt is mainly white, there is calcite rafting, I could imagine the water flushing through. There are several restrictions, among them one with red clay silt. There is flow in the cave, when we came out The Pit was filled with silt that we stirred up in the cave and was taken by the flow into the cenote.
Out of the cave in the cenote we hung out a little and I took some more pictures of Pierre. At the surface we congratulated each other with a big smile....we did it! It was so much fun, everything went very smoothly, there where no miscommunications during the dive or at the surface. We didn't loose any equipment in the deep ( Dan Lins and Steve Bogaerts have been diving the Pit at 391 feet ) and I managed to take some worthwhile pictures... What a day that 30st of July!
I want to give special thanks to :
Divecentre HiddenWorlds and Buddy Quattlebaum, for tanks, air and much more

Bob Hemm, explorers club New York, support
Dr Harry Hicks, Chicago, for the camera and housing.
John Cooper and Stan Mosley, kingz of o-ringz , support deez heb ik erbij gezet....
Chris Damas, Toronto, for MJ's wetsuit
And ofcourse Michelin, Pierre's wife………
Happy cave dreams

Marike Jasper
cave diver in Mexico