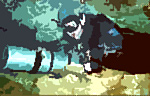 Sayab Chen, Tiger Cave, Tulum
28 august 2001
©Marike Jasper

---
The owner of Sayab Chen or Tiger Cave in Tulum asked for me to dive his cenote many times. I went to see him and the cenote somewhere in June. Arrived at the property I prepared for a 5 minute walk through the jungle which appeared to be 35 minutes, that's tough on flip flops especially with my stainless ankle ! Anyways, the cenote looked great, but turned out that it was already eplored by Gunnar Wagner ( Germany, full-cave instructor ) owner of Aktun Divecenter in Tulum. That was kind of a bummer because being the first is always the most exciting dive ! But it was still worth a dive anyways...... the trail was not complicated, the cenote looked beautiful and it was just a matter of walking into the water………
So beginning of this week I started the planning, a divebuddy, tanks, helpers, how, who and when ?!
I asked Hervé Gordon to join the team, we had already done a few dives together and him and me as a diveteam works out really good. Yesterday we took 8 singles with his truck and went for Don Roberto. We talked to him and he would take care of hauling the tanks to the cenote, together with his brother in law Carlo. Don Roberto's family are : his wife Reinalda, a beautiful little baby Lupita and a son little Roberto. They live officially in Tulum but also on the Rancho outside Tulum, in a palapa with some chickens, roosters and cows.
So this morning Herve showed up with helper Willy and the rest of his gear, we loaded my bag with gear on the truck, bought some water and chocolate and off we went ! We where super excited, its always so cool to dive a cave where very few have been..........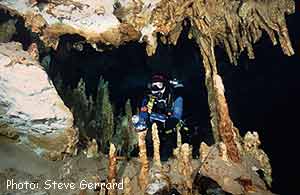 The trail was as I remembered, in the beginning wide and relatively flat, later on we where crossing ancient Maya walls, climbing over fallen tree trunks and hobbling over stones. Nice trails of cutler ants and a big Tarantula sitting in the middle of the trail.
The walk seemed short because we were talking all the time, Carlo and Willy were already gone with our bags and the tanks were brought in that same morning. This is how they do that : They have a big bag (like the ones they use for cattlefood) they attach a long band on it, they put the two tanks next to eachother in the bag and hang the band over their head, and haul the bag on their backs..... man, these people are so super strong….. it's impressive ! On top of that, they are almost running through the jungle where at this time of year, the mosquito's are superhappy to see you !
At the cenote we put all the gear togheter, we were both diving sidemount because of logistics and unknown cave. The first dive we followed a line that went North mainly, the line had several jumps and we followed a couple of them, on one we passed a restriction for which we had to push one tank in front of us because we didn't wanted to break the beautiful stalagtite/mite in the middle !
We had a great dive and I surveyed out, while Herve was marking leads that went off to all directions with clothespins. Total divetime 111 minutes and a max depth of 25 feet !
We had a surface interval where the whole family was waiting for us, they made a fire against the mosquitos and where telling jokes in Maya while Reinalda was hanging in a hammock with her little baby. We ate the sandwiches and the family brought a pot of soup what appeared to be deer soup (so that was the skin I saw stretched against the palmtree in front of their palapa, I thought it was a goatskin…..)
After a pee inbetween the plants and mosquitos, we hurried to get the wetsuits on again ! We found the other line at the end of the first dive and it looked very good, so we couldn't wait !
Right at the beginning there was a jump that went straight down and seemed to go deep, a second floor…….we wanted to check that one out first. I went ahead, the line made a u-turn and went straight down a slope with crumbly rock and calcite rafting. Some rock fell beside me and that didn't make me feel comfortable, then the line ended at 80 feet right into the breakdown, interesting was the halocline at 76 feet. I turned around, Herve was coming down, visibily was reduced to bad, and I told him the line ended and to turn around.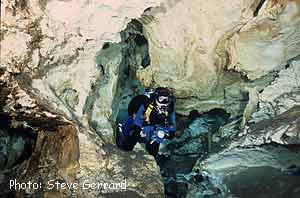 We went back to the 'mainline' and just followed it into the cave, what a gorgeous cave, dark silt, beautiful and plenty white formations, many of them shine through if you hold your light close. Cool travertin pools, flowstone everywhere, some really big very decorated rooms so far no restrictions and…..strong flow, that means lots of cave…… Most beautiful thing……hardly any damage, no silt marqs, this cave is not dived, just explored………….
I surveyed out again while Herve was relaxing and looking around and back to see how I was doing. This dive took us 100 minutes, the maximum depth was 80 feet, but average depth was only 17 feet. Almost 2000 feet of caveline was surveyed.
The guys walked the first four tanks back while we where having a ball in the water. As soon as we unclipped the tanks they where already ready to haul them back, then Willy did the most amazing thing I have seen so far, two singles in the bag on his back, then he wanted the full bag with (wet) divegear on top of it….I protested but it happened anyway…..and he made it almost till the very end of the trail………..the last part he walked only with the tanks and left the bag for somebody else.
Walking back Herve and me were still talking about the cave and enjoying what we just had seen for the first time…….what a great cave what a privilege to dive in such beauty !
For now we are putting the survey data togheter to see where the cave is going. Gunnar gave us permission to go exploring in this cave so the future is open. Now its a matter of raising funds to organize an expedition to go camping for a week on site. So we need a generator for charging the batteries of lights and scooters and last but not least a portable compressor on gas to fill the tanks. Lets do it !
What a great day in caveparadise !
Special thanks to :
John Cooper and Stan Mosley, the kingz of O-ringz
Don Roberto and his family
Willy and Carlos
Gunner Wagner primary explorer, Aktun Dive center Tulum
And of course Herve Gordon for joining me in this adventure !
Have a nice cavedream,
Marike Jasper
cave diver in Mexico